Online Classes And Examinations In CodeIgniter - PHP Script
Screenshots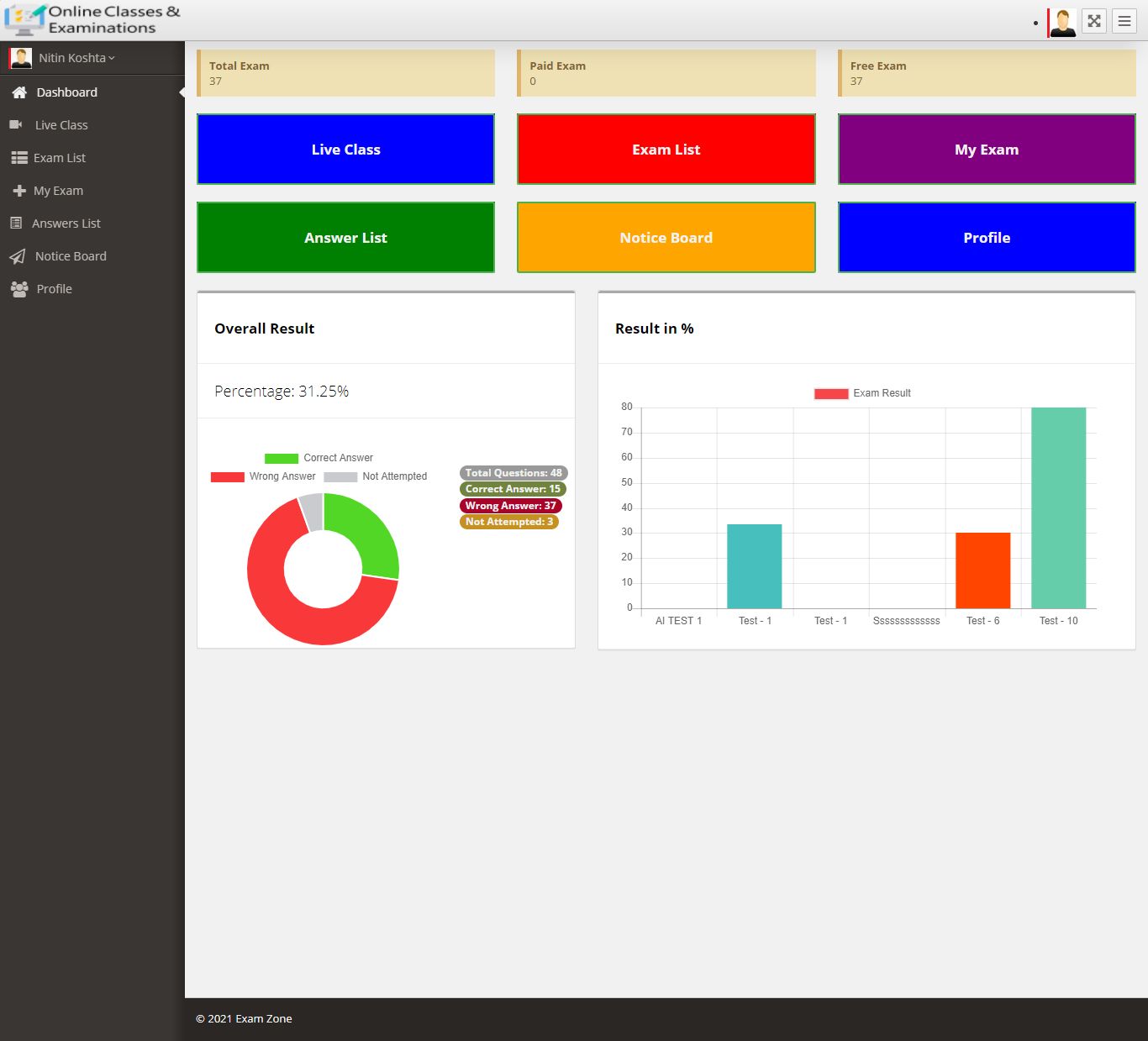 Overview
Online Classes & Examinations are easy to use testing (exam) tool for university, college, schools, training institutions and for everybody, who want to test students. It has questioned the & answer system which is very useful for university, college and school students. This Online Classes & Examinations has admin panel and student panel. Online Classes & Examinations system developed in PHP and MySQL. It is easy to use, full-featured and flexible web based application to conduct the online exam and for online Classes. This application has been developed keeping in mind, an institute which has various classes/branches/franchisee and students in each of them.
Features
Version 2.1
True/False question type added
Teacher dashboard added
Exam wise student rank Report added
Admin dashboard Leader Board (overall topper) added
Version 2.0
SEPARATE LOGIN PAGE
URL: https://examzone.tech/auth/login This url for SUPERADMIN and TEACHER login URL: https://examzone.tech/site/userlogin This url for STUDENT login.
TEACHER PANEL:
Teacher penal module depends on active module from the admin.
GENERAL SETTINGS:
Page Updated
Email Setting for mail
Module list for enable/disable module
Notification setting for mail
Social Login setting for student login using facebook/google.
Student exam timer, color (means if set 3 min, then if 3min left than timer color will read.)
STUDENT FEATURES:
Student can login using Google and Facebook.
Dashboard Updated with Graph.
Result page Updated with the score..
Subject wise exam list showing click any Subject than you will see all exam related to this subject.
ADMIN FEATURE:
For exam you can set Random question.
Now you can use images in exam For this first go to Question Gallery and upload image.
Add/Edit question E option is added.
Now we can add two type question multi choice question and single choice question.
Add/Edit instruction field is added if you not fill then default instruction will shown to student.
Admin under Setting module added for enable/disable module.
When adding students, date of birth filed is added.
Version 1.0
How To Works Live/Online Class:
Create a zoom account and get the API keys from your zoom account.
Save it in the "Online Classes & Examinations" under "Live class Credential".
Add Live Class in your Online Classes & Examinations and enter details.
The student will get the live class will appear on the live class.
Admin will start meeting using Zoom App / Online Classes & Examinations just before the scheduled time.
Students will simply click the Join button and Admin must approve their requests.
After the student joins, They will able to watch live streaming video classes.
DASHBOARD:
Full featured dashboard.
Graphical report.
Student Dashboard with Purchased Detailed
USER CONTROL:
Add unlimited users.
Activate/Deactivate users.
Modify user data.
PROFILE:
Update profile information.
Change login password.
MAIN FEATURES:
Live/Online Class System using Zoom.
Create Exam under class.
We can create free or paid exam.
Question add System.
Add Bulk Question Using CSV.
We can download sample CSV.
Using sample CSV we can create bulk question, answer.
We have also added Question description.
Bulk edit Question.
Language Setting currently using 42 languages.
Payment setting & configuration.
Admin, Student & Operator System.
Free & Paid Exam system.
Students Result with percentage.
Students Answer with Question description.
Change login password.
ADMIN FEATURES:
Live/Online Class System using Zoom.
Manage Class.
Manage Subject under respective class.
Add Exam under relative Class.
Add question one by one with description.
Add bulk question using CSV files. 
Bulk edit Question and delete.
Clone / Copy exam and delete exam.
Show / Hide Answer sheet.
Show / Hide Question description.
Score after finish.
Exam Published & Unpublished featured.
Exam wise result with export to excel featured.
Manage student classes/branches/franchisee.
Compose notice for student.
Enroll Student in classes/branches/franchisee.
Manage Language currently using 42 languages.
Multi payment setting & configuration currently using PayU & stripe.
Payment Report With date wise searching.
Exam selling Report With details.
STUDENT FEATURES:
Live Class panel for join live class.
Exam list for Enroll/Buy.
Student Exam list.
Easy Checkout process.
Student result with percentage.
Student answer key with description.
Student Notice Board.
GENERAL SETTINGS:
Site Theme currently we are using 6 themes.
Currency Symbol Alignment like before price or after.
Fixed Header / Fixed Navigation Feature.
Fixed Footer Feature.
We can set left sidebar Menu On Top.
RTL Mode Feature.
Dynamic Footer Copyright.
Dynamic Favicon.
We can active Notice to show on the login page with limit.
We can update our log in page.
We can select Currency with Currency Symbol.
Follow our link.
Requirements
PHP 5.6+ 
MYSQL 5.1+ 
MYSQL SQL_MODE must not contain ONLY_FULL_GROUP_BY 
mod_rewrite Apache 
MBString Extension 
MYSQLi Extension 
fileinfo Extension 
Zip Extension 
CURL Extension (recommended) 
PHP max_execution_time should be atleast 60 seconds for smoother installation 
* In most hosting accounts, these extensions are enabled by default. But you should check with your hosting provider.
Instructions
DEFAULT SUPERADMIN LOGIN
Download